2. Campingpass/Camping Key Europe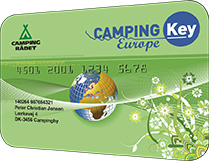 You need a valid Camping Key Europe (camping pass) to stay overnight at Danish campsites It can be bought at any Campsite around Denmark.
A valid Camping Key Europe is valid in all European countries.
You just fill out an order form on arrival at the reception of the campsite you have booked space. The order form serves as a temporary camping card until you receive the new camping. Camping Pass will be provided with a year mark, which is valid for one year. Remember to include the temporary camping cards (order form) when you travel on.
The camping pass costs 110 kr ~ 14.7€ (2015).
All valid Camping Keys are covered by indemnity against a third person if the card holder does not have other insurance coverage. The insurance only covers damage, according to Danish law can be held responsible for.
You can also buy a Camping Key Europe on the internet If you did not get the opportunity if buying your Camping Key at one of DK-CAMP's 300 campsites, you can buy it on the internet.
Choose your language:
Regulations for Camping Key Europe
Anyone can obtain an individual Camping Key, but children under 15 must have parental consent. A camping card covers couples and singles, and their children under 18 years. Everyone should have the same residence.
Have you turned 18, you must have your own Camping Key.
Children under 18 can not travel alone using their parents' Camping Key. In this case, each child should have issued his own personal Camping Key. Traveling parents with children's friends should have an individual Camping Key each, as they do not have the residence as the parents.
Please note the following:
It costs 10 kr ~ 1.30€ handling fee to buy a Camping Key Europe on the internet.
Group Keys will cost 110kr ~ 14.7€.
Camping Keys can be issued to institutions, schools, kindergartens, schools, sports clubs etc. There must be at least 5 and a maximum of 11 participants travelling together. Group leaders shall be 18 years. Passports must, in order to be valid, be accompanied by a list of names of all participants.
Transit Brand + transit card costs 35 kr ~ 4.7€.
If you only plan on spending one night at a campsite, you can purchase a transit. One transit brand is valid for one night. The purchase of the fourth transit mark of the same year, can be exchanged transit form for a camping. Note that it is more expensive to buy a camping this way.
Transit is only valid in Denmark.